Tous les faits saillants de WWE Hell in a Cell l'évènement de ce dimanche, le 16 septembre, 2018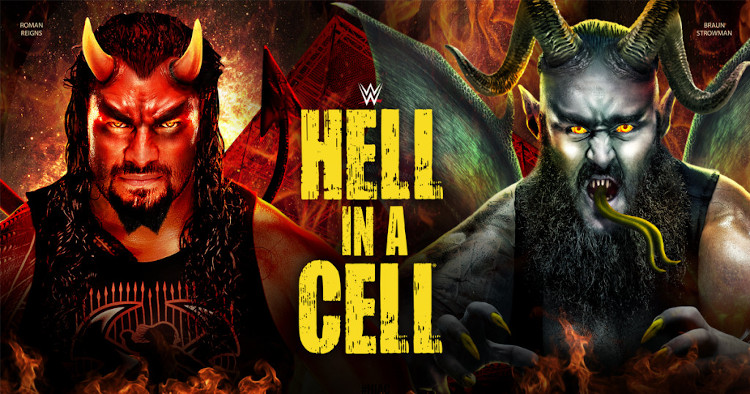 WWE Hell in a Cell 2018 est en route – ce dimanche, le 16 septembre 2018, en direct du A&T Center de San Antonio, Texas. L'été de WWE est passé à la vitesse de l'éclair et l'automne approche à grands pas — ce qui veut dire WWE est fin prêt pour des nouvelles histoires et narratives. Avec Super Show Down et Évolution à l'horizon en octobre, l'évènement de dimanche, Hell in a Cell, est l'occasion parfaite pour établir de nouvelles intrigues, nouvelles querelles et des surprises.
Les fans de WWE Hell in a Cell attendent avec impatience les matches suivants :
WWE Universal Championship
Roman Reigns (c) vs. Braun Strowman
WWE Championship
AJ Styles (c) vs. Samoa Joe
SmackDown Women's Championship
Charlotte Flair (c) vs. Becky Lynch
Raw Women's Championship
Ronda Rousey (c) vs. Alexa Bliss
Hell in a Cell Match
Jeff Hardy vs. Randy Orton
Daniel Bryan & Brie Bella vs. The Miz & Maryse
Raw Tag Team Championship
Dolph Ziggler & Drew McIntyre (c) vs. Seth Rollins & Dean Ambrose
SmackDown Tag Team Championship
New Day (c) vs. Rusev Day
Les combats de Hell in a Cell ont ouvert la voie à un évènement incontournable. Ajoutez WWE Network pour 12,95$ par mois à votre service de télévision VMedia pour l'accès instantané à tout la programmation de WWE. Profitez des évènements à la carte et des séries originaux tel que : WWE Ride Along, The Edge & Christian Show, Camp WWE, Stone Cold Podcasts, The Monday Night War, et WWE Countdown. Votre abonnement à WWE Network vous donne aussi accès aux programmation sur la video sur demande. Ne ratez pas l'action de WWE Hell in a Cell, en direct sur WWE Network.
VMedia TV: Plus de contenu, plus d'action.