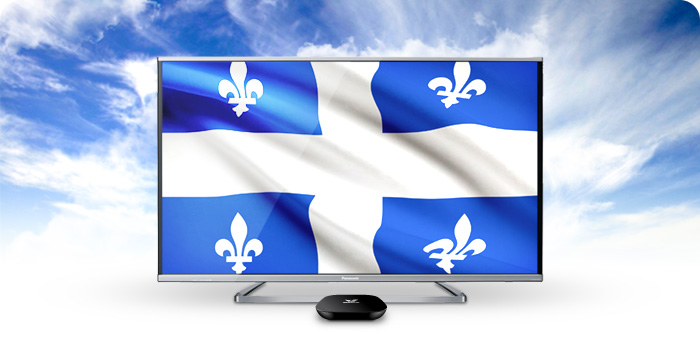 Lower Prices and Cool Features Coming to Nearly 2 million Homes in Quebec.
Montreal, Quebec, May 31, 2016 – VMedia Inc. is pleased to announce that it will be rolling out its unique TV service together with its Internet and home phone plans in Quebec on June 1, 2016, providing the only triple-play alternative to the big players in this market. Already a successful competitor to the larger telecom and cable providers throughout Ontario, VMedia will now offer better prices and more choice and flexibility in TV, Internet and phone services to nearly 2 million households in Quebec. VMedia services will immediately be available in the greater Montreal area, including Laval, Saint-Jérôme, the South Shore and the West Island as of June 1, with other markets to follow over the next 12 months.
VMedia's TV packaging strategy has been customized to effectively serve all clients, in both French and English, offering all Quebecers their favourite channels at the most affordable prices.
"This is a very exciting and timely development, as we have been getting many requests for our service from Quebec since the CRTC awarded VMedia licences to offer TV services across Canada last year," said Alexei Tchernobrivets, Chief Executive Officer of VMedia. "We have been working 24/7 to be able to provide Quebecers with our unique TV platform and a much-needed alternative for consumers to the big companies in triple-play TV, Internet and phone services. This is a great moment for us and, as a new competitive option for TV service, great for consumers."
VMedia has been offering more choice and better prices in TV, Internet and home phone services to Canadians across Ontario since its launch three years ago, and is now expanding into Quebec, as well as BC, Alberta and Manitoba, this June. VMedia's services and innovative features have been welcomed in homes as a better value option over the traditional TV providers. VMedia offers the full range of TV services consumers expect – plus cool features – at prices up to 25% less than those of the big players.
"VMedia's innovative approach to providing both live TV channels and access to a world of Internet content with one device , one remote and one easy interface is in sync with how consumers want to experience video content today", said André Charette, General Manager, VMedia Quebec. "With triple play services eating up more and more of our household expenses, all homes in Quebec and the rest of Canada deserve nothing less. For example, we offer our 'skinny' basic package for $17.95, with all five US networks included, well below the prices charged by the big companies. In Quebec, users will be able to subscribe for other great TV packages like Le Complet, a French package featuring every French specialty channel, for only $49.95, or our Premium Basic package, offering the top English specialty channels, for $39.95."
With the full line-up of French, English and multicultural channels offered in packages large and small, as well as on a standalone or pick a package basis, VMedia offers more choice and better prices in TV services than any of its competitors. All the channels are available from premium sports channels like RDS, TVASports, TSN and Sportsnet, to specialty channels like Canal D, Canal Vie, Showcase, AMC, CNN and Discovery, to Pay TV services like SuperEcran and TMN/HBO Canada.
In addition, VMedia delivers its content through its proprietary VBox, an advanced, Android-based set top box and media player combined, that provides a traditional TV subscription service, with cool TV features like VCloud "look back" TV, VOD and PVR, as well as Internet content on TV screens with easy access to 100s of apps including Netflix, YouTube, movies, music, games, social media, multicultural channels, and more. The VBox also lets you access a browser, so you can surf the Internet from the comfort of your couch.
"At our core, VMedia is a top team of developers and engineers dedicated to providing great entertainment solutions for everyone, at the best prices in the market. No other TV providers give you the opportunity to switch between their TV content and any app that you wish to enjoy on your TV," said George Burger, Co-Founder and Advisor to VMedia. "We not only let you, we encourage you, to access over-the-top content, with a smart and intuitive interface that lets you go back and forth between all your content options seamlessly."
VMedia's TV services require VMedia's high-speed Internet, which itself is the best priced unlimited Internet service in the market. And best of all, VMedia does not require contracts to enable subscribers to benefit from its great everyday low prices.
VMedia Inc., based in Toronto, Ontario, provides innovative TV, high-speed Internet and home phone services, offering more choice and flexibility, unique features and lower prices than the major players. VMedia is the only alternative triple-play provider to those players in Ontario, Quebec, BC, Alberta and Manitoba. VMedia is a leader in IPTV technology and the company's cool, affordable TV platform delivers a whole new home entertainment experience, enabling consumers to seamlessly enjoy conventional TV, over the top content, video on demand, social media and a world of apps. VMedia makes every TV smart!