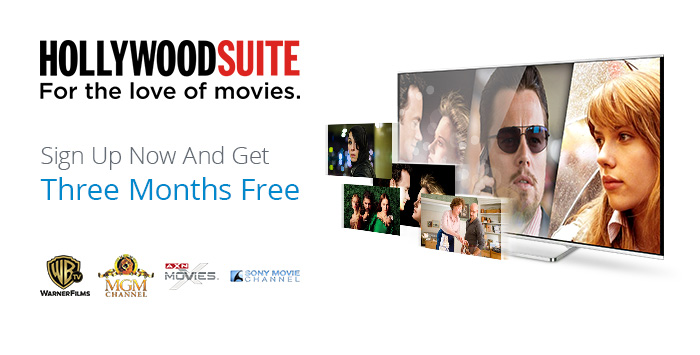 Sign up to Hollywood Suite today with 4 terrific movie channels and we will give you 3 months FREE!
So if you are a movie lover and want the best in drama, comedy, action and adventure movies, then Hollywood Suite is for you. Four HD channels – unedited and no commercials – from box office hits to award winning and critically acclaimed movies – all for $5.75/month. The Hollywood Suite channels are Warner Film – channel #486, MGM – channel 487, Sony Movies – channel #488, and AXN – channel #489.
And here's what's coming for September and October movie programming. In September, Hollywood Suite celebrates the career of legendary funny man, Bill Murray with a look at his best movies from Caddyshack to Lost in Translation. And in October, check out HALLOWEEK, a collection of over 50 spooky and scary movies, including The Grudge, Carrie and Scream.
Hollywood Suite – over 400 movies a month and the best of the Hollywood film industry. Watch on your TV or with the Hollywood Suite GO app, on your computer, Apple iOS or Android mobile device.
So subscribe today to this terrific movie package and get 3 months FREE!