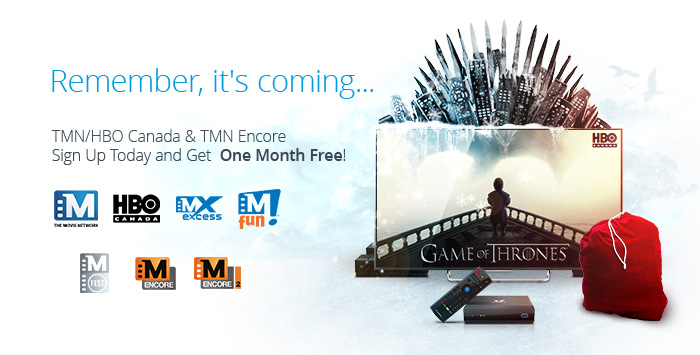 Our VMedia holiday gift to you – Get One Month Free of TMN, HBO Canada & TMN Encore!
Sign up to this premium theme pack and you can enjoy the best shows and movies on television today – including the latest Hollywood hits and award-winning series from HBO and Showtime – all uncut and commercial free. Watch exceptional, genre-defining series like The Affair, The Knick, The Leftovers and of course – Game of Thrones (watch from the beginning Dec 15 – Jan 1). Sit back and take in recent box office successes like American Sniper, Fifty Shades of Grey and more. And VOD and TMN GO are included in your subscription.
And take note of this new, exciting series coming in January – Billions, a new bold drama about power and motivation in the word of New York high finance. Staring Paul Giametti and Damian Lewis (actors we love!) as two ego – driven and brainy adversaries from very different backgrounds – this series will kill.
TMN, HBO Canada & TMN Encore – the best TV package around! So go ahead and treat yourself for 2016 with tons of great TV watching to enjoy