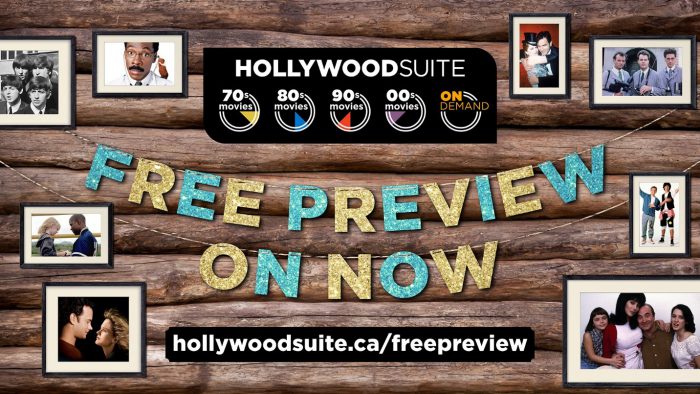 Hollywood Suite is now on FREE PREVIEW, for your TV viewing pleasure and running until January 5th. Stay close the couch this holiday season with their collection of festive flicks, family-friendly faves and even all-new series – all on VMedia TV.
Hollywood Suite features all the movies you love from the 70s, 80s, 90s and 2000s, plus essential classics, uncut and commercial-free, on four channels live and On Demand as well. There's always something to watch on Hollywood Suite.
Check out channels #486-#489 in all provinces, with the exception of Quebec where it is on channels #296-#299.
Here are just a few of the movies and series you don't want to miss!
Festive Flicks
Guess Who's Coming to Christmas
A cynical rock star receives a letter from a young fan, inviting him to spend the festive season with the youngster and his family and asking if he will perform at the local Christmas concert.
Bad Santa
A miserable conman and his partner pose as Santa and his Little Helper to rob department stores on Christmas Eve.
Exclusive Premieres
Valley of Tears
October 6, 1973. Arab states led by Egypt and Syria launched a surprise invasion and nearly overran Israel during the holiest day of the Jewish calendar. The story is told through the eyes of three characters, whose lives were thrown into the heart of battle.
A Year in Film
The Hollywood Suite original documentary series A Year in Film explores how movies reflect the event, mood, politics, and culture of their time.
Highlights From Each Decade
West Side Story – HS 70s
Winner of ten Academy Awards including Best Picture, this electrifying musical sets the ageless tragedy of Romeo and Juliet in the slums of 1050s New York.
Die Hard – HS 80s
New York City Detective John McClane becomes the only hope for a small group of hostages, one of whom is his estranged wife, trapped in a Los Angeles high-rise office building when it is seized by terrorists on Christmas Eve.
Jumanji – HS 90s
When two kids find and play a magical board game, they release a man trapped for decades in it and a host of dangers that can only be stopped by finishing the game.
Snow White & The Huntsman – HS 00s
In a twist of the fairy tale, the Huntsman ordered to take Snow White into the woods to be killed winds up becoming her protector and mentor in a quest to vanquish the Evil Queen.
Like what you see? Then add the Hollywood Suite theme pack to your TV subscription to enjoy all four channels for only $5.95 per month. Prefer 'a la carte'? Either can be done easily in your My Account. Then or add your favourite Hollywood Suite channel or channels from our UChoose store, for only $2.95 per month.
Happy holidays with VMedia and Hollywood Suite
VMedia – More Content. More Free Previews.