SVOD or Subscriber Video On Demand is the VOD feature that comes with a channel you are currently subscribed to, e.g. HBO Canada VOD.
Go to 'TV' on the Main Menu (vertical) and click on SVOD on the horizontal bar. That takes you to a screen where you will see all your SVOD channels across a bar at the bottom. Scroll across the bar for each of your SVOD channels and the title covers will appear above. The second bar displays program genres for each SVOD channel to help you in your selection.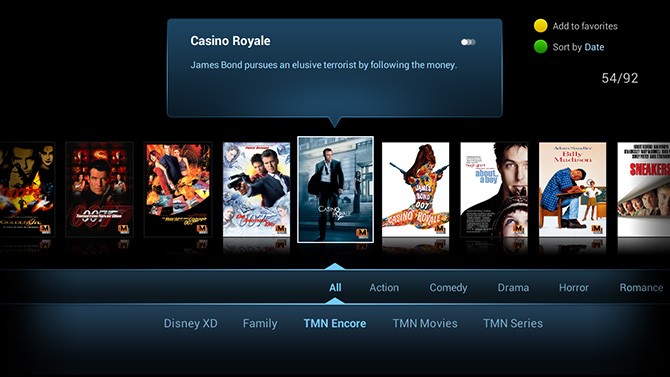 Here are the key commands on your remote for SVOD.
| | | |
| --- | --- | --- |
| â—" â–º | Left, Right | For horizontal navigation |
| â–² â–¼ | Up, Down | For up and down navigation |
| | Ok | Confirm your selection |
| | Back | Go back |
| | Green | Change sorting: Date, Views, Name |
| | Yellow | Add selected item to favourites |
Click on the title covers of the movie or show that interests you and you will see a brief description and the option to start watching. If it is a series, it will give you the list of episodes to choose from.