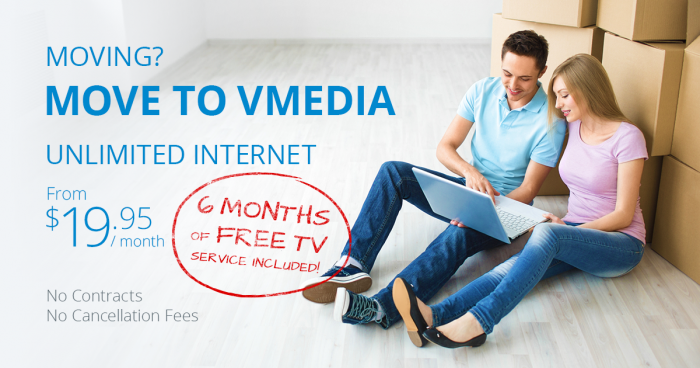 Spring & Summer is moving season for many and with moving comes the opportunity to reassess, and even change your Internet & TV service provider, allowing you to take advantage of valuable savings.
To help you out, here is a set of basic questions to ask:
Internet:
Is your current internet plan unlimited? (All VMedia plans are)
Are you paying for usage with a monthly cap and extra data charges? (VMedia doesn't charge for your usage – it's an all-in price for internet service)
Am I paying the lowest prices for my speed plan? (Glad you asked…VMedia offers the lowest unlimited prices on the market today. Learn more here)
Is there an installation charge if I sign up with another provider? (Glad you asked again…FREE Installation now with this LTO. That's 'retail speak' for Limited Time Offer)
TV Packages:
Can I customize my TV package so I am paying for the channels I watch? (VMedia offers you the most choice & flexibility so you can 'build my own' TV channel line-up)
Can I get low cost and great value TV packages? (Hey – we have TheSkinny, up to 30 channels with all the major Canadian and US networks for only $17.95. Or Basic, up to 40 channels, including all TheSkinny channels plus a great set of core specialty channels like TSN, CP24, E!, YTV and more. Or our most popular TV package, Premium Basic with up to 70 channels for only $44.95 and includes all the Basic channels plus even more popular channels such as Sportsnet, with all the regional Sportsnets, A& E, AMC, Bravo, CNN, Discovery, MLB, MTV, NFL, Peachtree, Showcase, Space and more. Find out more here)
Any promos to make it interesting to sign up? (How about 6 months FREE TV with any Internet plan? Or over $100 credit on Basic and Premium TV Packages?)
What about special TV features? (VMedia's innovative IPTV platform provides quick access to everything you want to watch/do: live TV and all your favourite online content; Netflix, YouTube, Movies, Music, Games and more. All the Google Play apps and a browser too. Plus VOD, PVR, our unique VCloud 'Scroll-Back' TV capability and more. All powered by our unique VBox, a TV set top box and media player combined. The VBox – one device, one remote …and a whole world of content)
Can I save on set top boxes by watching TV with my own Roku Player? (With VMedia TV – Yup!)
Contracts and Cancellations Fees:
Do I have to deal with Contracts and Cancellation Fees? (At VMedia: No and No … Have we convinced you yet?
If you are planning to move, do yourself a favour and check out VMedia today and start saving at your new home! Sign up online or call us and we will put together the best TV and internet package tailored to your needs for the lowest price.
Happy moving!